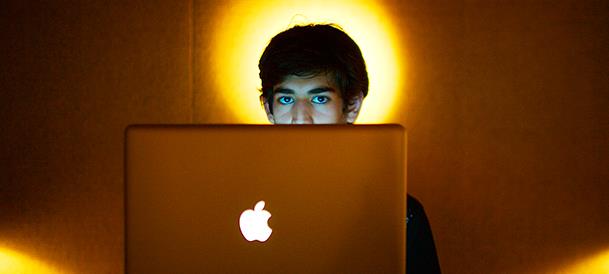 Aaron Swartz, an Internet activist who was one of the creators of the Web news sharing site Reddit, was found dead in his New York apartment Friday, an apparent suicide.
Internet activist and computer prodigy Aaron Swartz, who helped create an early version of the Web feed system RSS and later played a key role in stopping an online piracy bill in Congress, has committed suicide at age 26, authorities said on Saturday.
Police found Swartz's body hanging in his Brooklyn apartment on Friday, according to the New York City Office of Chief Medical Examiner, which ruled the death a suicide. Police went to the apartment after receiving a 911 call from Swartz's girlfriend, who found him.
"Aaron's insatiable curiosity, creativity, and brilliance; his reflexive empathy and capacity for selfless, boundless love; his refusal to accept injustice as inevitable — these gifts made the world, and our lives, far brighter," Swartz's family said in a statement Saturday. "We're grateful for our time with him, to those who loved him and stood with him, and to all of those who continue his work for a better world."
Swartz is widely credited with being a co-author of the specifications for the Web feed format RSS 1.0, which he worked on at age 14, according to a blog post on Saturday from his friend Cory Doctorow.
RSS, which stands for Rich Site Summary, is a format for delivering to users content from sites that change constantly, such as news pages and blogs.
Online tributes to Swartz have been posted at a number of top websites in the technology world.
"Aaron had an unbeatable combination of political insight, technical skill and intelligence about people and issues," Doctorow wrote on his blog at Boing Boing.
Swartz was "an extraordinary hacker and activist," the Electronic Frontier Foundation, an international nonprofit digital rights group based in California wrote in a tribute on its home page.
He "did more than almost anyone to make the Internet a thriving ecosystem for open knowledge, and to keep it that way," the tribute said.
Swartz also played a role in building the news sharing website Reddit, but left the company after it was acquired by Wired magazine owner Conde Nast.
In 2011, he was indicted on computer fraud and other charges related to the unauthorized download of academic journal articles at the Massachusetts Institute of Technology. He pleaded not guilty. His trial was due to start in April.
Doctorow wrote that Swartz had "problems with depression for many years."
Swartz himself described his struggles with dark feelings.
In an online account of his life and work, Swartz said he became "miserable" after going to work at the San Francisco offices of Wired after Reddit was acquired by Conde Nast.
"I took a long Christmas vacation," he wrote. "I got sick. I thought of suicide. I ran from the police. And when I got back on Monday morning, I was asked to resign."
Swartz later founded the group Demand Progress and led a successful campaign to block a bill introduced in 2011 in the U.S. House of Representatives called the Stop Online Piracy Act, which generated fierce opposition in the technological community.
The bill, which was withdrawn amid public pressure, would have allowed court orders to curb access to certain websites deemed to be engaging in illegal sharing of intellectual property.
Swartz and other activists objected on the grounds it would give the government too many broad powers to censor and squelch legitimate Web communication.
Swartz also had been a fellow at a Harvard University research lab on institutional corruption, according to his website.
Prosecutors in the MIT academic journals case in 2011 said he broke into a computer wiring closet on campus and used his laptop for the downloads.
Swartz pleaded not guilty to charges including wire fraud. If convicted, he faced decades in prison and a fortune in fines.
Some legal experts considered the case unfounded, saying that MIT allows guests access to the articles and Swartz, a fellow at Harvard's Safra Center for Ethics, was a guest.
According to a federal indictment, Swartz stole the documents from JSTOR, a subscription service used by MIT that offers digitized copies of articles from academic journals. Prosecutors said he intended to distribute the articles on file-sharing websites.
He faced 13 felony charges, including breaching site terms and intending to share downloaded files through peer-to-peer networks, computer fraud, wire fraud, obtaining information from a protected computer, and criminal forfeiture.
JSTOR did not press charges once it reclaimed the articles from Swartz.
The prosecution "makes no sense," Demand Progress Executive Director David Segal said in a statement at the time. "It's like trying to put someone in jail for allegedly checking too many books out of the library."
Criticizing the government's actions in the pending prosecution, Harvard law professor and Safra Center faculty director Lawrence Lessig called himself a friend of Swartz's and wrote Saturday that "we need a better sense of justice. … The question this government needs to answer is why it was so necessary that Aaron Swartz be labeled a 'felon.'"
JSTOR announced this week that it would make "more than 4.5 million articles" publicly available for free.
Tim Berners-Lee, who is credited as the most important figure in the creation of the World Wide Web, commemorated Swartz in a Twitter post on Saturday.
"Aaron dead," he wrote. "World wanderers, we have lost a wise elder. Hackers for right, we are one down. Parents all, we have lost a child. Let us weep."
"Playing Mozart's Requiem in honor of a brave and brilliant man," tweeted Carl Malamud, an Internet public domain advocate who believes in free access to legally obtained files.
Resource